I am not sure if renovating the rooms has changed the noise that carries from the hallway in the morning. Also both the closet and the bathroom is small. Otherwise this is a great bargain. IN May this is going for $19 on Hotels.com. even OVER THE WEEKEND. Damn, I have not seen a deal like that in years.


JEN'S REVIEW


before we start, lets take a peak back at the old rooms at the golden gate. i had this one about two years ago:




this year i booked three comped nights, knowing full well what i would be getting and being absolutely fine with it. i check in and get into the elevator that smells like a ho dog and off to floor three i go.

as i am walking down the hallway, this is what the room doors look like. note, they all come all the way out to the hallway: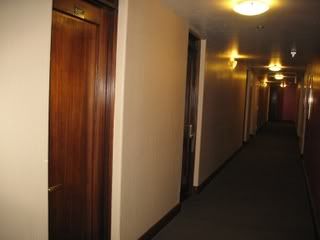 then i get to MY room and look at how the door is sunken in, meaning my room is going to be smaller than all the other rooms.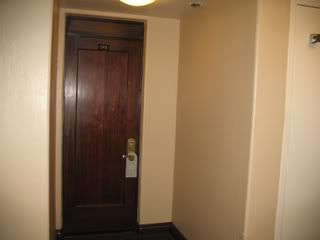 i open the door expecting the worst and OH MAN LOOK LOOK LOOK LOOK LOOK AT WHAT I SAW!!!!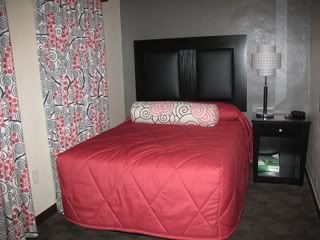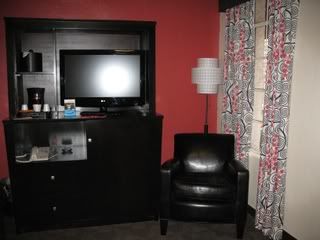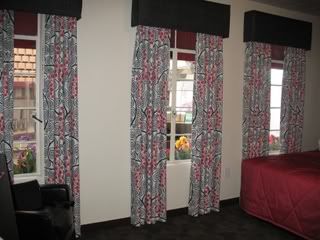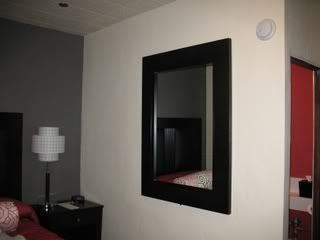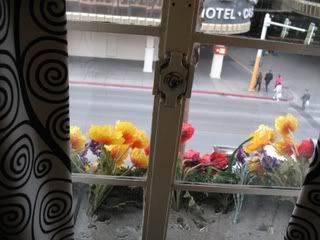 how freaking adorable is this room???

now before you go screaming "I WANT TO STAY THERE!!!" remember, this is the golden gate. it is the oldest hotel in vegas.

look at the size of the closet compared to the size of my suitcase: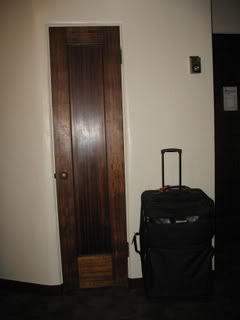 here is the bathroom. that tiny entrance looking thing on the back left? thats the shower. you take a step down into it. it has no shower curtain or glass door, its just open. and SMALL.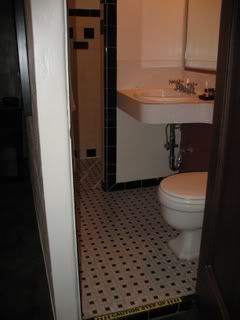 i made the mistake of leaning on the bathroom counter and thats when i discovered the counter is no longer really attached to the wall/sink and i almost ripped the damn thing out of the wall. i was scared to breathe around it afterwards.

my view was of the plaza.....you could hear traffic all night long, not to mention the fremont street experience.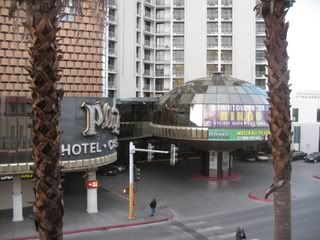 my room also had no heat. i dont mean that cold air came out of the heater, i mean that it would not turn on at all, not the heat, not the air conditioner, nothing. nada.

i didnt call and complain because i didnt discover it until late at night when i was all exhausted and in my pajamas. i figured i could make it until morning and it turns out i was absolutely fine without it so i never called.

the flat screen television is nice and large but it doesnt get many channels and no in-room movies (WHY ARE YOU WATCHING MOVIES IN VEGAS ANYWAAAAAAYYYYYYYYY?)

(ps - i watched movies in vegas on this trip).

the last time i made a post about a hotel that included the problems of the room, i clearly stated "i wasnt expecting a suite at the bellagio and i didnt call and complain because i dont care" i got a response one of lva's most-in-need-of-medication posters flipping out on me for "what were you expecting? a suite at the bellagio?" and a very lengthy bashing for being so much of an idiot i didnt call to complain about the room.

so again i reiterate, i didnt call and complain because I DONT FREAKING CAAAAAAAARRRRRRRRRRRRRRRRRRRRREEEEEEEEEEEEEE.

im just stating the facts.

and i was actually MORE excited about this room than my penthouse suite at the bellagio. so take THAT!

i would absolutely definitely without a doubt stay here again. hell id even pay for it. HELL i am considering modeling my living room after this room. no joke.

i got a phone call at around 11:00 am on my last day asking me if i was checking out or if i wanted to extend my stay. i let them know id be checking out. when i went down about half an hour later, i said "checking out" and got asked what room, i said '348" and got the immediate response "jennifer, right?". no looking at a computer, eyes never came off me, he just knew 348 belonged to jennifer. so either this man has a brain like a computer or maybe i was the only guest in the entire hotel this weekend.

just kidding about that last part. i know there was at least one other guest because i passed a door with a note on it that said "please come to the front desk, we need to move you to a different room".

wish i were still here

******************************************************************************

HERE IS DEWEY'S EXPERIENCE THERE A YEAR OR SO AGO IN THE OLD ROOMS:


ay.
I knew what to expect, but I wanted to see the old rooms before they get renovated by the new owner. I liked my stay because it reminded me of visiting my grandmother's house when I was quite small.
It would be good to be small in a Golden Gate room. There is not much space to be large.
I had three 99 cent shrimps before they doubled the price. I guess for a while I can still get that price with a player's card. Sorry to see it go as it is a fine meal for me now that I have begun some mild dieting. A free lunch buffet and the shrimp make enough for a day.
I enjoyed the old feel of the place, like being in a cheap hotel in the 1930's. I slept well and then in the morning I awoke to the sounds of housekeeping chattering in Spanish. The walls are very, very thin and the Spanish maids had never learned about quiet voices.
My window faced an inner courtyard and the entire experience reminded me of waking up decades ago in our apartment in Alcala de Henares, Spain to the sounds of the Spanish women talking full volume over the laundry on their back terrazas. These faced a similar inner courtyard that was stung with lines and pulleys to let them hang out wash.
It was a wonderful emotional flashback.
Here at the Golden Gate there was a fine old table and chairs and a coffee maker. The paper was delivered under the door. So I could brew my Earl Gray tea and sip from a fine ceramic cup (Walgreens 99 cents) and write up notes for my coming trip report.
I loved my two mornings there.
I hated the parking. Free valet was mandatory.
I parked twice for only 5 minutes, tipped once, and stiffed the other time. It was crowded there in that small lot and there was no going to your own car. The valet was also the protector against theft.
One time there were just two cars and we waited over ten minutes to get service. That was the time I did not tip.
I would hate to do that in August.
I was happy to be returning the rental car after only one day. I am much happier when I am free of a car in Vegas.
I was sorry that the Golden Gate stopped giving free decks of cards out for ACG coupons. You can get one free deck with a Freemont Experience Coupon when you sign up for a Player's Card.
The piano player late at night when I was returning tired was just wonderful in a Casablanca sort of way. I hope the renovation will preserve that old style Vegas flavor. The old lamps and the wooden doors are wonderfully rich and make up for the tiny bathrooms and the electrical wiring in exterior tubes along the walls. (To plug in my sleep apnea machine I had to give up charging my phone.)
The television was terrible. There were few stations and some were snowy. I'd hate to be stuck in that room with an illness. What a contrast to the flat screen TV at 4 Queens!
But in 1930 no one had television.
And without it, the paper and the Earl Grey and the sounds of Spanish seemed even a greater luxury.
POST SCRIPT
These photos from another person's trip report aer so like my room that I thought I'd post them here. These rooms are all gone now, all "upgraded" and new. No need to go back really:
N